From 23-26 August 2021, SIWI will be virtually holding World Water Week, which brings together stakeholders from the water, sanitation and hygiene sector worldwide. This year, the Lazos de Agua Program will be present with two sessions, on August 24 and 25, with simultaneous Spanish/English translation. Representatives from the Mexican government, the founding partners of the Program and the executing partner of the Y Kuaa project will address key issues related to collaboration, scaling up, sustainability, monitoring and evaluation. 
To participate in World Water Week, register here. You can choose between a free pass (LimitedAccess - Free), which will give you access to the session led by Lazos de Agua (showcase) and to the session in which the One Drop Foundation and its government partners in Mexico present the case of collaboration in the Guanajuato Project. 
Ernenek Durán, director of the Lazos de Agua Program and Director of Programs at the One Drop Foundation; Sandra Vázquez, Manager of Purification and Treatment, National Water Commission (Mexico); and Juan Gabriel Segovia, Director of Social Management, State Water Commission of Guanajuato, will talk about the Guanajuato Project in the segment "Confluence of strategy, experience and diversity". 
It will highlight how several of the elements of the Lazos de Agua project in Mexico are being integrated into state and federal water and sanitation programs, allowing to increase the resilience of communities and the sustainability of access to water, sanitation and hygiene. This will be one of the cases of the session, in which Water For People, Water.org, CAF, the IDB and IRC will also present cases around the theme of the conference.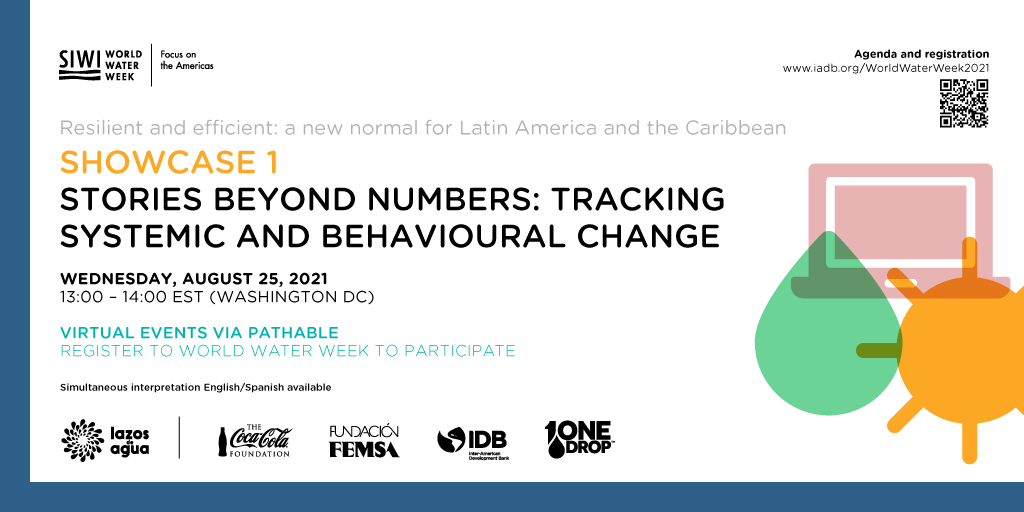 The Lazos de Agua team – represented by panelists from One Drop, the Inter-American Development Bank, FEMSA Foundation and the Moisés Bertoni Foundation – will delve into the complementarity of conventional and innovative monitoring and evaluation alternatives that have allowed it to broaden its understanding of the Program's progress and complex environment. 
Through a session in which the audience will interact with the panelists and the Program's story-based research platform, the value of mixing methods, involving communities in the analysis process and evaluating changes from a qualitative perspective will be understood. 
Find here more information about the session and resources (Spanish and English) 
Remember to register  for World Water Week to access the session 
On Wednesday, August 25, at 11 a.m. EST, the session will be held here (link to the Pathable platform, where the session will take place, available only to registered persons) 
Once on Pathable, the platform where World Water Week will take place, you can choose to add each of these events to your calendar. On the page of each session you can access, among others, additional resources, a conversation window (chat) to leave your comments and questions. 
See you at World Water Week!